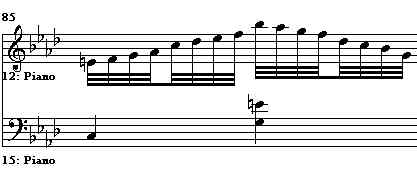 MUSIC
I have come up with an idea for generating a lot of music, namely, that of composing a little something each day and recording it on Cakewalk on my computer. I have done this now for eight days, and haven't missed any, as of 2003 December 30. One of these sounds tremendous, so I have put it right here, my Song of 2003 November 26. Where do I find my favorite musical artists? Sometimes I just buy an interesting CD and see what happens. That is what happened with Andreas Vollenweider. Sometimes I hear a song I like so well that I go to the music store or Amazon.com and buy it. My musical interest started early in life when I played classical music on the piano. I am still interested in some classical composers, including Claude Debussy, Ludwig Beethoven, and Frederic Chopin, in particular, Opus 28. Chopin wrote 24 piano pieces in this Opus, including one in each of the major and one in each of the minor keys. Right now (2003 May) I am reviewing these and putting them in Blogtrek , but I am also putting them in a special Chopin Opus 28 page.

Every year I go to the Southeast Unitarian Universalist Summer Institute in late July at Virginia Tech. This camp and conference for UU's features theme and worship hours and concert hours, and I occasionly meet groups whose music I like from when they start singing. Last year it was Peter Mayer of SUUSI. (Be sure you have the right Peter Mayer - I call the other one Peter Mayer of Buffet). I took a workshop from him and got some ideas of writing songs. Because of conflicts, I could not hear any of his songs at SUUSI, so I bought a couple of his CDs. I especially liked "Magic Beans", "Waking Up", "Yukon Sally", and "Dancing Song". More recently, I met a female singer with a wonderful voice and with substance in her songs: Lydia Davis, who sings country music, ecological music, music with a social message, and children's music. I even like her children's music, especially "The Cat Came Back". My Lydia Davis favorites are "Did I Miss the Demonstration", "There's a Moon out Talking to You", "Lake Erie", and "Time's Running Out for Garbage".

I also produce my own music, including about 20 instrumental compositions and one vocal, "Dancing Under the Rainbow". I do my composition using Cakewalk, a computer music program, and this makes it hard to present my music to others because of the equipment I have to set up. I can understand now why the guitar is so popular.

The following are my top 10 musical groups:
Relative Viewpoint
Madonna was also one of my favorites until she put out decoys which instead of playing her music threw a nasty riposte at the downloader for copying her music.
My Favorite Musical Composition
Moondance, by Andreas Vollenweider
My Favorite Vocal Composition
Imagine, by John Lennon
Plus a Sample of my own Music (both instrumentals)
Bon Voyage , by Jim Blowers

Carefree Tango, by Jim Blowers

NOTE: Click on a song title to play it.