2000: The Year that SUUSIites Walked on Water
Neighbors, Ancient Civilizations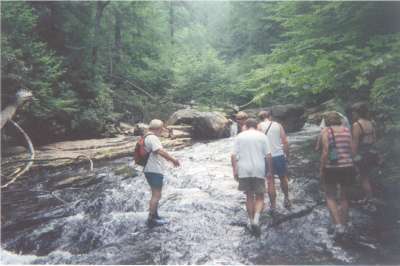 Yes, it's true. People who go to SUUSI really do walk on water. When they reach a place where the only clear way is a stream, they just walk up that stream. I went to SUUSI this year, like I have been doing for the past nine years. I went on many nature trips in 1998, and in 1999 I learned how to tell the tale in two workshops; in previous years I empowered my self, learned drawing, and singing, and how to choose the path. I dance every year at SUUSI, at Serendipity and in dancing workshops. I also gave my own workshops every year since 1995.. This year I did a little of everything; appropriate for a sumup year like 2000. Here are some of my highlights; click on the little thumbnails to get a bigger picture.
TRIPLE SLOG: Where we walked on water
This is the hike where we walked up or slogged up a stream. We started by going down an embankment through the woods, coming out at Little Stoney Creek just above the Cascades waterfall. I looked down and saw the cold pool in front of the waterfall together with SUUSIites from the Cascades trip. We turned away and went up the stream, finding it really slippery with pools in the way that have to be swum or walked around.
When we reached the second pool, some of us tried swinging on a rope like Tarzan, then dropping into the pool. I tried to take a photo of that but it clicked too late. Still, you can see the circular waves that a jumper's crash into the pool caused.
When we got to the end, we had to climb a waterfall to get to the top. I climbed on the far right side, hoping I would not slip and fall. Some of these people found it a steep climb.
After we got to the top, then we could enjoy the water, such as laying down on it and looking down to where we had just climbed.
COVE MOUNTAIN: Where we walked on rocks
I took this hike, knowing it would be all afternoon, and into the evening at a restaurant. Shortly after I got into the hike, I was confronted with this rock formation, and told the trail goes up it. That was surprising, but I went up it anyway, and negotiated several hair-raising rock formations, until
I saw this lovely view of a farm nestled in the Blue Ridge.
we went back down again, this time over more negotiable paths through the woods. Along the way, I found this perky daisy popping out of the woods floor.
After the hike, we ate a good meal at this country homestyle restaurant, Homeplace. It had the atmosphere of an old time country home.
MORNING BIRD II: Where we walked through the cows
We went to a farming area with a path along which many birds could be seen in the morning. We looked for birds and found them immediately: barn swallows, cardinals, eastern bluebirds, and also a rabbit. The beginning of this trip was at this old church.
It was a foggy morning, and the sun had to struggle to shine through the mist. This made the birds hard to see and took the color out of them, but we saw and heard them anyway.
We started on our way up the path, and found that we had to contend with these mooey gatekeepers. Maybe they'd like to look for the birds, too. We kept walking along, and they moved aside and let us through. The topography was unusual - it dipped to a basin to our left, which leads to some underground caves (that's another SUUSI trip). We went to a puddle with frogs in it, then we turned back, and we discovered afterwards that we had seen about 30 species of birds.
MOM, THE FLAG, AND ROCK AND ROLL: Our Lives in Music
I happened onto this unusual workshop after the one I had registered for was cancelled. Led by Jennifer Bosveld, it required us six participants to describe our lives by the musical tunes that we have heard throughout our lives, and then sing small excerpts of these songs, one after another, on Cabaret on the last day. To construct this musical story, she had us describe our lives on a long piece of wide paper ruled into squares. This enabled us to compare our life and its stages with the songs we have heard. One exercise consisted of a free-form writing followed by the writing of a poem; I wrote one named "Where's The Way?" I then wrote my song list and performed it, like the others, late on Friday evening at Cabaret. This workshop made me feel once again how music really drives our lives.
DANCING AT SUUSI: A New Contra Dance and a Wheel of Conga
One of my special pleasures of SUUSI is the dancing. There are many workshops on dancing at SUUSI: line dancing (not offered this year, unfortunately), contra dancing, ceili dancing, waltzing, Latin dancing and jazz dancing. I took the Contra Dancing and was intrigued by its mathematical structure; a major part is simply a sequence of elements from a matrix group, as explained by Ivan Peterson. I found that some elements of the group were not in the dance, and by including these elements, I designed a new contra dance step which I showed to my SUUSIMatics workshop. Late at night, on all nights save one, I danced at Serendipity, where every midnight a special edition of La Bamba is played, by SUUSI tradition. This year, the DJ, with a TV quiz show in mind, turned this into a Wheel of Conga: he spun a bicycle wheel (see picture at right) and wherever it turned up, that conga was played.
MY OWN WORKSHOPS: where we walked across the Drillfield
I gave the same three workshops I did last year. However, I revised one of them to Star Tales of Ancient Civilizations to match the theme, and I added another one, SUUSImatics. SUUSIites had to walk a distance to get to my workshops because they all were across the drillfield. In return for that, they had a chance to make attractive models, like the two made by Janice DeLoach at the right. I told them about stories of the constellations, this time focusing on Native American star tales, which are not too widely known. SUUSImatics generated considerable debate about what the chances of winning the car on Let's Make a Deal were, and about when the Stargazing nature trip would occur. And they surfed the 'Net in my UUs Online.
To sum up: I had a really great week at SUUSI 2000 this year, and I am looking forward to next year's SUUSI, with its theme of the Interdependent Web of Life, and which to me will be 2001: A SUUSI Odyssey.

Jim Blowers
Page created 2000 August 27